Discover more from Jarrod Kimber's Sports Almanac
Global cricket. Global sport. Global stuff.
Keep Smiling, Dean Jones
I was brought up in Victorian cricket, Dean Jones was Victorian cricket.

Dean Jones is the reason I bought a pair of sunglasses. I never saw much point in them, then or now, but Deano had them on, and so did I. 
This won't be the best thing I've ever written, it is impossible to write about someone who played such a big part in your life hours after they have passed. The words aren't ready yet, and they may never be. It's not just me, there is an abnormal amount of cricket writing talent out of Melbourne, and Deano was the cricketing big brother or father to most of us.  
Dean Jones wasn't a cricketer to me, he was part of my identity in childhood. He was playing for Victoria when I saw my first shield match. He was from Coburg, where I played cricket myself. And when I was 11, my mum lined up all day to get a signed copy of his book for me. I was (am) a Victorian cricket fan first, and he was Victorian cricket.  Arrogant and fragile. Brilliant and bewildering. I sat in the MCG watching him so many times. I saw him smash white, red, yellow and orange balls. I saw him wear shorts, play for Victoria, Australia and the Bushrangers. Oh, and for a World XI where he made 100 against Australia.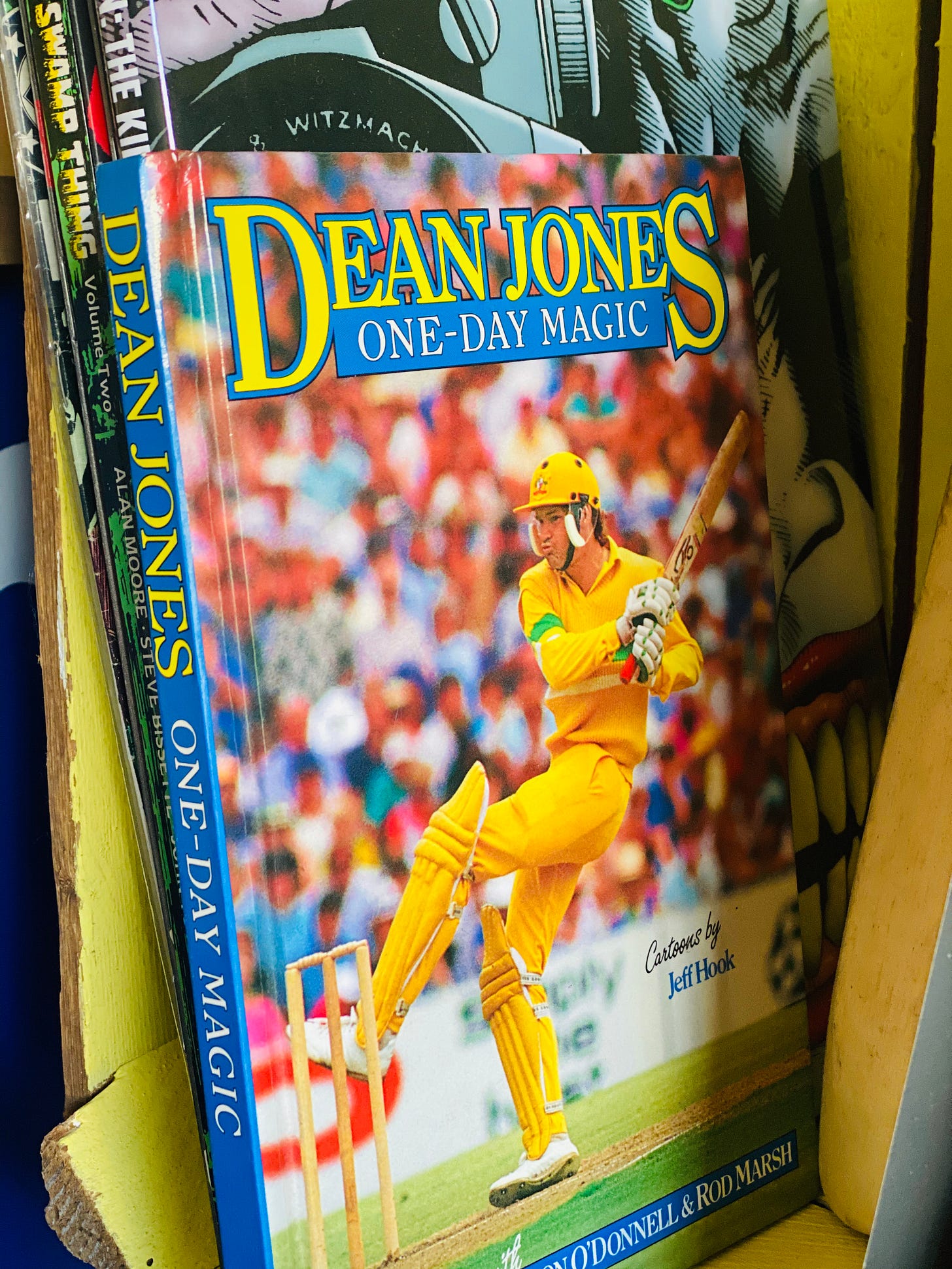 Deano was at my first Test too. And I turned that first Test into my maiden article for Cricinfo. He was there at the beginning of it all for me. I still remember the pain watching him fail in that innings.
It hurt me, it hurt us (that was seemingly all Victorians), at the G, every time he failed. Deano was our great hope, and it seemed like the world was conspiring against him. How could you be this good, and in Deano's case, know you are this good, and not be an automatic selection? It was there when he had to shit himself on a cricket field to prove himself. When he asked - rightly - for Curtly Ambrose to take off his armbands and was blamed for his teammates struggling. When he wore sunglasses and was seen as showy rather than pragmatic. And when the West Indies ran him out after they bowled him from a no ball. To us, Deano could do no wrong. To the rest of the world, it was the opposite. 
Peak "Bring Back Deano" didn't happen until the mid to late 90s. But we who grew up under him couldn't work out why he wasn't in the team. We could get our head around the fact that the middle order was incredibly strong. We could even understand that our genius was not the easiest character to get along with, but Deano made runs.  He had a batting average of 46.55, and I didn't need to look that up. I knew that like I know the numbers 216, 210 and 145. 
That 145, I don't just remember him coming down the wicket and flicking over leg like he was a camp Viv Richards. I remember he had long sleeves, his collar was up, had zinc on, and I know that midway through the innings he swapped out the cap for a floppy, and hit a one-armed six with it. 
You can see all that in the highlights, but I don't need them because for years when I was set at the crease, I would ask for a floppy hat and then start slogging.  
Deano was the first cricketer I imitated, I batted with the wide stance, hit the ball in the air, ran at spinners, ran at quicks, tapped behind my foot and ran like my arse was on fire. I asked for a County bat because he had one. When he ditched it, I stopped using mine. He changed who I was as a cricketer. 
And so to 11-year-old me who received one day magic and read it like it was a stone tablet handed down to me. I believed it contained all the secrets I would need to know as a cricketer. And at the same time, the self anointed one day magician had disappeared again from the Australian team. I couldn't work out how anyone else could see him and not want him in their side. He was the world's best ODI batsman and still wasn't an automatic pick in the Australian team for a home World Cup. He was our legend, and mostly he remained that way.
There is a moment in that 145 innings where he smashes Eddie Hemmings. It's given four, and Deano follows the ball down to try to get everyone to check if it wasn't six.  That is Deano, fearlessness of the shot, arrogance to walk towards the umpire and desperation to get extra validation.
Deano wanted to be loved as he was at home by the nation, but it never happened. 
He was dropped from the Test team in his peak batting years. He was in and out of the ODI team and even 'Bring Back Deano" always a joke more than a plea.
And this wasn't an ordinary cricketer, Dean Jones changed the way ODI cricket was played.  He took some lessons from players like Javed Miandad, and he turned them into a formula. The gaps were over players' heads, but if you hit controlled shots, you could score fours and twos all day. To run that much he became a fitness machine in the same side that had David Boon in it.  He took calculated risks like Kevin Pietersen - a player he also shared with his ability to hit to leg, and annoy his teammates. 
And Deano ran. No, sprinted. 
Australian cricket had been running hard for generations before he was around, but Deano sprinted all the time. He turned twos into a will he or won't he gamble. He was as exciting running down the wicket hacking to leg as he was slicing to third and taking one on the throw. Everything he did had thrill and danger to it. ODI cricket was so odd back then, players wearing colours but performing in black and white. Deano was a technicolour scream. 
And to me, us, we lived in a constant state of fear, Deano was always on the balance beam. We didn't know if he'd stick the landing, or finish with a broken leg. That was part of the allure. The combination of blinding self-belief and incredible anxiousness made him so fascinating. Like the best superheroes the fragility made him more captivating. He was at once telling you he was the greatest, but then straight away stopping to check if you agreed. 
He was so much to me, that when I was young, if he was dismissed I lost interest. 
But as the years went on, you heard the other side, even before I worked in cricket. He was widely known to be a terrible captain of Victoria. Over the years as I met the guys in his teams, I always ask what he was like as a skipper, and there's rarely much nice to be said. He and coach Les Stillman were aggressive and abusive to their players.  I remember one incredibly talented inexperienced player telling me after he'd failed in a few games that Jones told him he should "fuck off to Tasmania".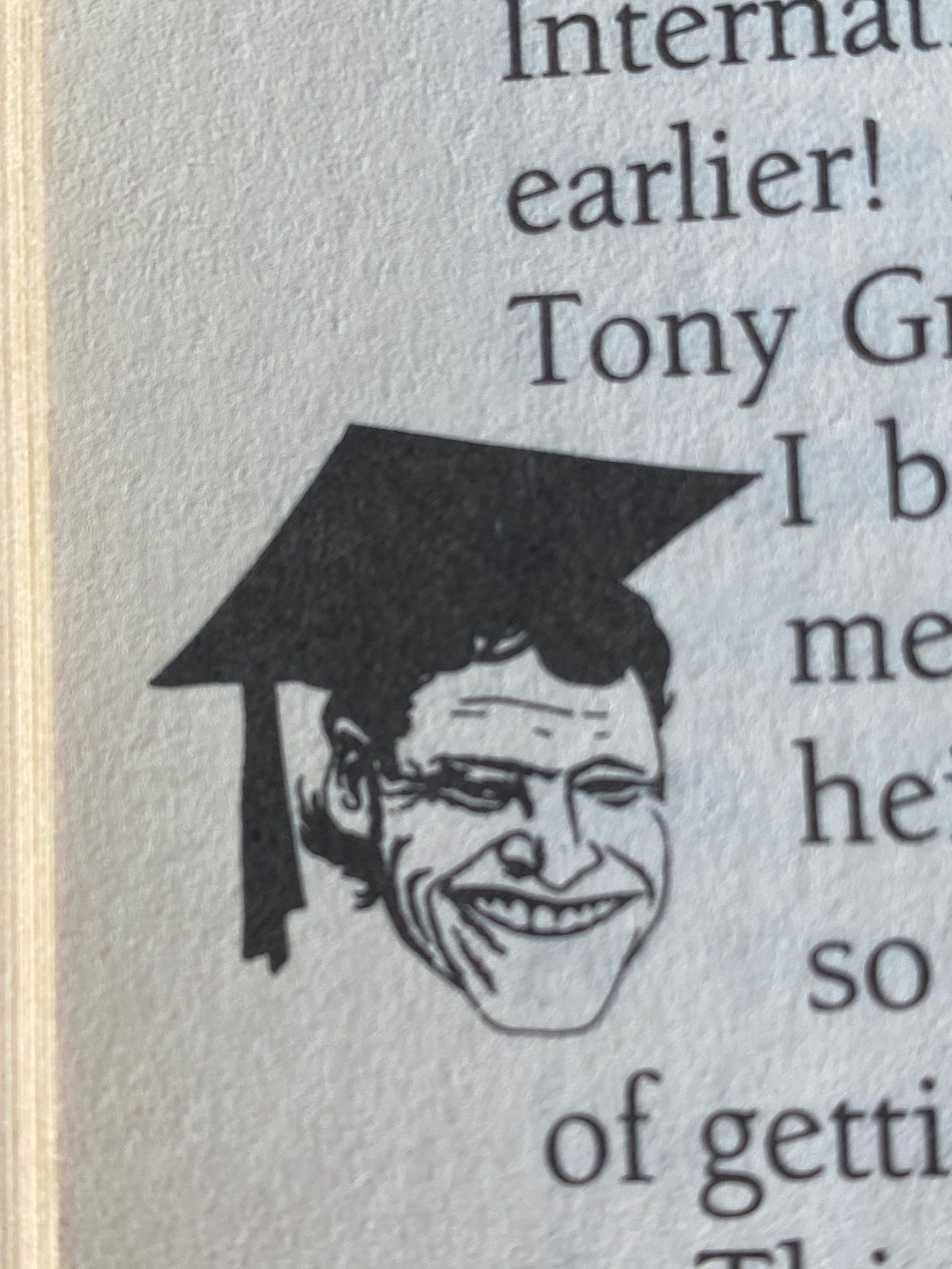 And there was the Hashim Amla moment - where he was caught off-mic calling him a terrorist. I wonder now in the current climate if Deano would have worked again so soon, especially in a Muslim country like Pakistan.  I also had my own moments with him, he often tweeted out my work and generally agreed, "Whilst I agree on most of your philosophies". We chatted a lot via messages on T20 strategy. But we had some issues, like when I questioned the David Boon drinking story - which Deano has cashed in on thousands of times.  He did on three separate occasions threaten to block me on twitter, which is probably more blocking than he ever did on the field. As they say, never tweet your heroes. 
But, whether we disagreed or not, there was a part of me that was always taken back to childhood when Deano would get in touch. 
But the truth is the person I loved as a kid, was never going to be someone I liked as an adult. Deano didn't change, I did.  I got new heroes, and stopped reading One-Day Magic and My Call. Victoria got better after he left. I looked at the game differently, and when he and I met, it was as two professionals. Who had extreme opinions on things. He once called me arrogant, and I smiled and said "I had a good role model". 
The running joke in Victoria was that his ego was so large it entered the room before he did. But this was the guy who almost died to score a double century in the tied Test. And he has a double hundred against the West Indies. Perhaps he would have pea-cocked without these scores, he was that kind of guy. But he could play.
Deano will be remembered in many ways, the man unafraid to take the piss out of himself, the boy who ran down the wicket to change ODI cricket, the Victorian God who never took over the world, the successful T20 coach and the commentator who said something racist.   He was all of those things.  Deano was frustrating to love, hate, read, watch and bowl to.
But to eight-year-old me he was simply my first cricket hero. If he only did that, I could never thank him enough. And this is what he wrote that day my mum got him to sign his book.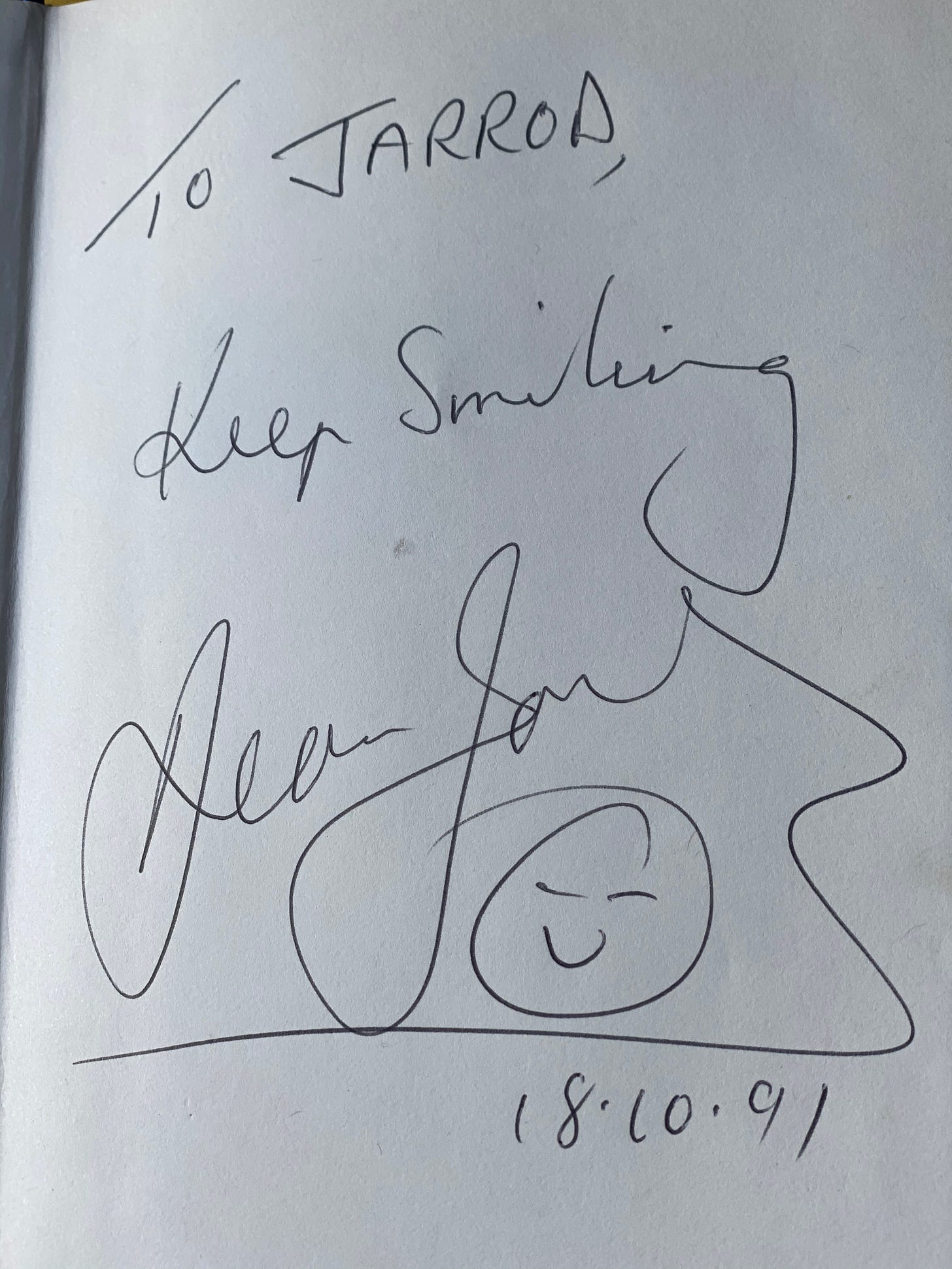 I know I'll never be able to get all the words out right here. But something I learnt when I was young is that sometimes you just have to walk at the bowler and sprint between the wickets.
Dean Jones was the reason I ran down the wicket when I batted. Keep smiling, Deano.