Discover more from Jarrod Kimber's Sports Almanac
Global cricket. Global sport. Global stuff.
Will the Australian women ever lose an ODI?
Yes, but they're so much better than everyone else it may not feel like they can.
What if the Australian women's team never lose again? They might win every ODI until our eyeballs all bleed.  And of course, this is impossible, but it's also something I've been thinking about a lot recently.  
Men's cricket had two great post-war dynasties, both of them a fantastic crop of cricketers coming through at the same time. But both of them also had something else, professionalism. 
The West Indies team could not get that from their home board. But through overseas first class cricket and Kerry Packer, they were perhaps some of the most professional and experienced cricketers on the planet. You add that to their natural talent, intelligence and the ability to back their strength, and then you have a once a century cricket team.
The Australian run wasn't as long, but still incredible. They had a core of three alien players in Glenn McGrath, Shane Warne and Adam Gilchrist who on their own would have transformed many teams. But the reason they won so consistently - and didn't draw - was that there was rarely a weak link. They developed players who could have been lost and made them better in a way that cricket wasn't used to.
Take Matthew Hayden, he is remembered as a legend now, but after two times in and out of the team, he was averaging 24 after 13 Tests, most believed he wouldn't make it. In a normal amateur shambolic cricket environment, he probably wouldn't have. But he made it by first battering India - in India - and that was because he had spent time there with the help of Cricket Australia to fix his game in Asia.  
And it isn't just cricket, this is the case in all sports. Natural talent is common, finding, keeping and developing that talent is usually the difference. 
This has already happened with women's cricket.  When England became the first truly professional side, they suddenly looked a different kind of team to everyone else.  The problem for England was their system would only ever create a talented team from a limited pool. Australia invested and expanded. 
And what you are seeing with the Australian Women's team is what happens when one culture fully embraces professionalism, a couple toy with it, and others don't even get started. 
The Australian women have won 21 straight ODI games. If you told me it was 50, I'm not sure I'd be that surprised. At the T20 World Cup I started calling them the Harlem Globetrotters, such was their domination, yet they slipped up in that tournament. But ODI cricket is less random as opposition flaws can't be as easily hidden. So this is a machine made to cull the opposition. 
So I just picked the last three years, I didn't make it specific, and the only other change to the data was I left Ireland off as they've only played three games. 
Australia are so far the best batting side that words won't work.  Here they are first, and helpfully I've put daylight as second for you.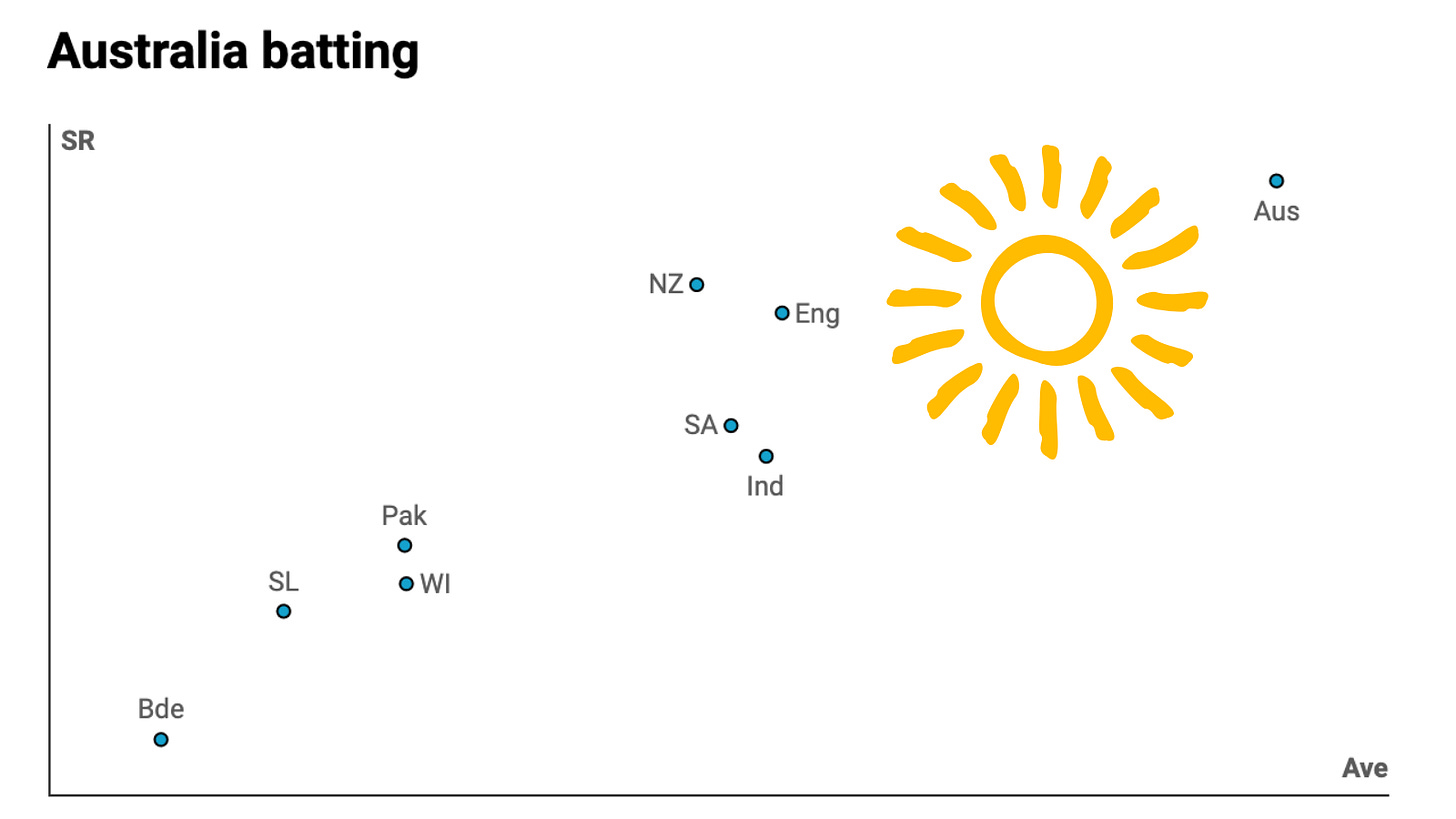 They're a quality bowling team as well. The only bowling team that goes at less than four runs an over and are almost 20% better than their nearest rival on averages.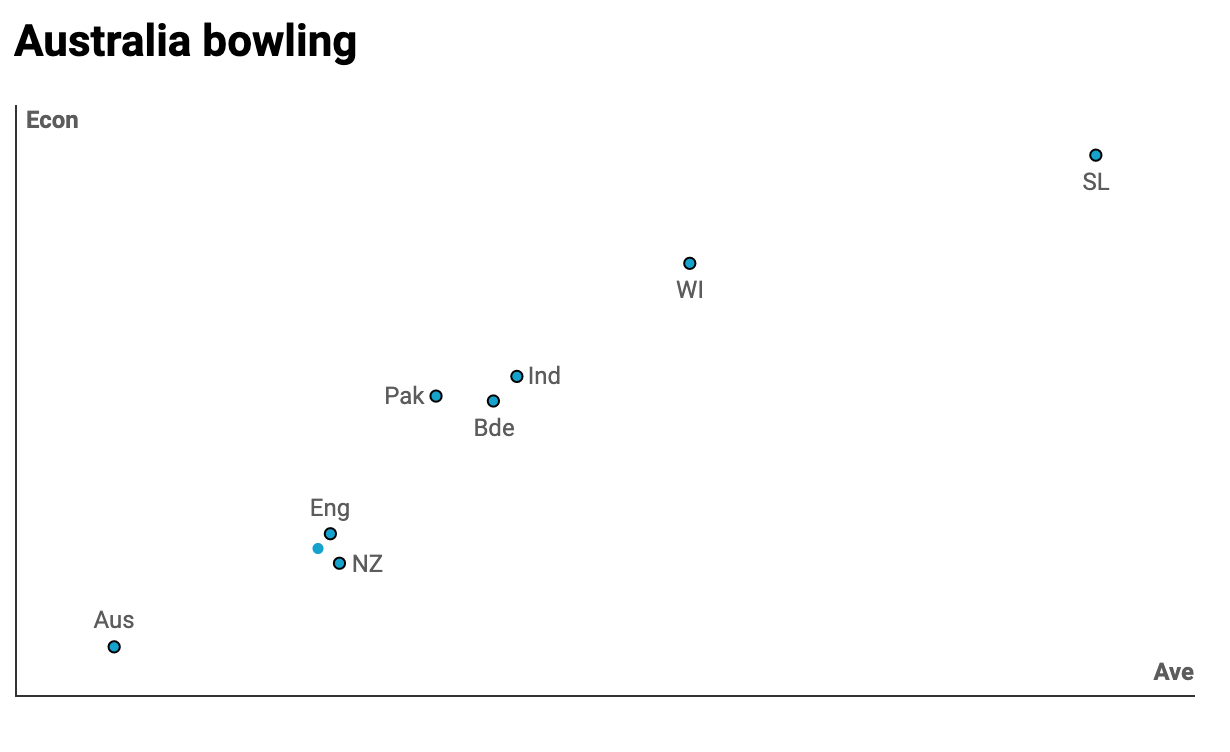 This is the average differential. 

I mean, come on. 
And just for fun, this is how rarely their batters scores ducks.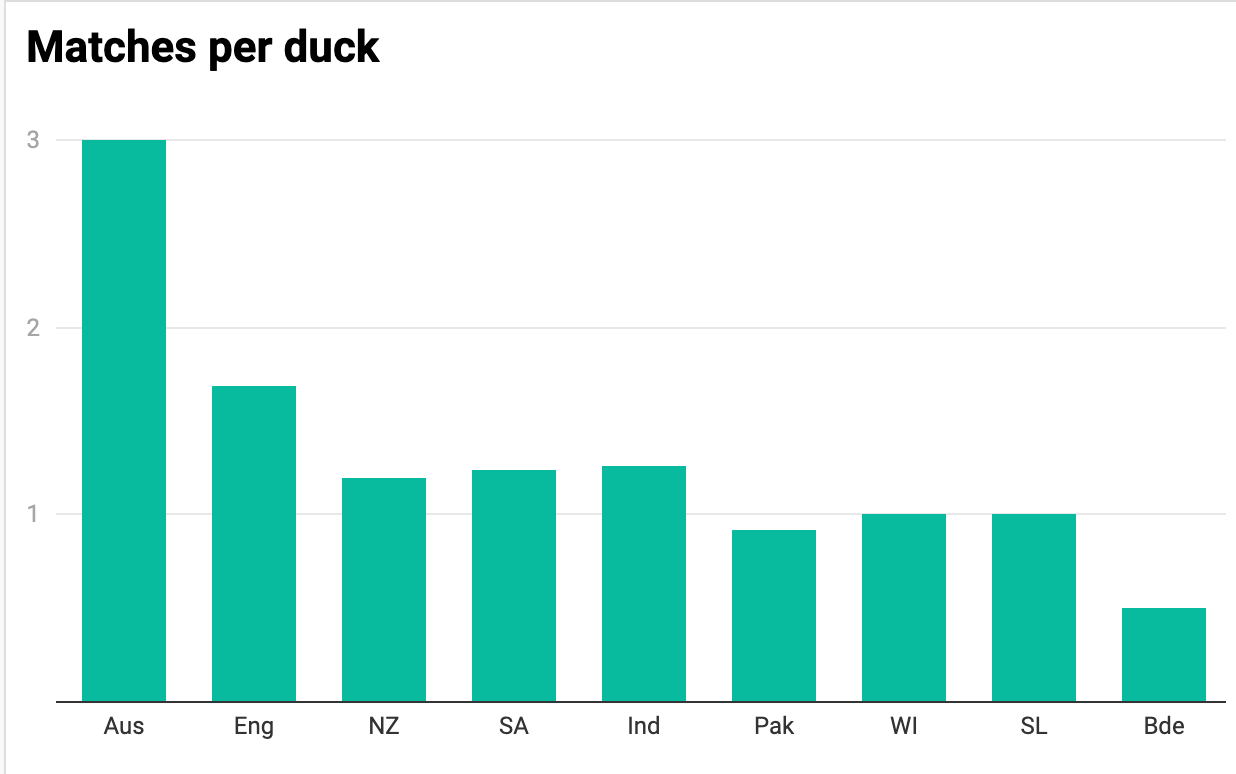 Yes, they score one duck every three matches, almost every other team almost has a duck a match. It's obscene. 
It's also not new that the Australian women are good. As Tim Wigmore noted in his piece, "Out of 18 global events in the history of the women's game, Australia have won 11, including six since 2010." But they're better now than they have ever been, and just at the time that women's cricket has never been stronger, the gap between first and second might be at its widest. 
In the recent match against New Zealand, Australia made 325, New Zealand 93. To reach Australia's total, they would have had to lose 35 wickets at that rate. The kiwis have struggled of late, but they are ranked fifth, the difference between first and second right now is bad. The difference between first and fifth is epic.  Oh, and they did this without their captain and best batter. 
And this is a  team with serious talent at the top. They have the second, third and fifth highest ranked batters. They have the first, third and fifth bowlers. Meg Lanning is the best batter in the women's game I have seen. Ellyse Perry is one of the best female athletes in any sport - or in her case every sport. And Alyssa Healy, who was once seen as an unpredictable force, is now one of the best players on the planet.  
However, with professionalism you don't look at the best players, you look at the cricketers on the fringe. When the England men went to number one around a decade ago, it was the fact that players like Tim Bresnan dominated. For the Australian men it was guys like Colin Miller and Stuart MacGill. The West Indies' men had a collection of the best first change seam bowlers cricket has ever seen, and by far the best second change guys. 
For this Australian team its players like Georgia Wareham, Nicola Carey or Nicole Bolton. Wareham averages 29 with the bat, 28 with the ball. Carey is 18 with the bat and 32 with the ball. Bolton averages 41 with the bat. Who do you target, what is their weakness? 
Their records are extraordinary for the kinds of players who aren't automatic selections, that could be seen as bits and pieces, or are still a long way off the elite talent in their team. That is what money and structure do, it ensures that these women aren't juggling a day job, that they can hit the gym, and they aren't lost to the game in the first place because there are only 25 paid jobs on offer.  It offers young players hope, old players facilities and middling players support to get better. 
This team will lose a game, even if I can't actually construct many ways they will be defeated. You know it will be a collapse, an huge Harmanpreet type innings or just a dodgy loss of the toss. But while I was joking before - 50 seems quite a long way off - they could win quite a few more before they lose. Right now they aren't just dominating cricket, they're almost destroying it. It's a great run, and it's feeling dynastic.
---